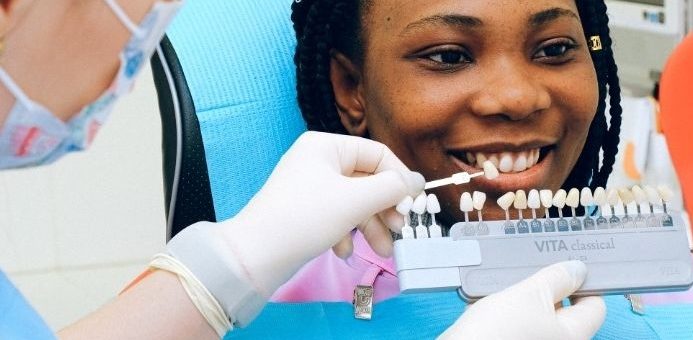 Veneers are a great way to accomplish the bright, beautiful smile you might be looking for. They are a terrific option in cosmetic dentistry for anyone that has stained, chipped or crooked teeth. However, veneers tend to be a permanent treatment, so you should consult with your cosmetic dentist to decide if the procedure is right for you.
What are Veneers?
Dental Veneers are wafer-thin, custom-made shells of tooth-colored material designed to cover the front surface of teeth. They are bonded to the front of the teeth changing their color, shape, size, or length.
What are the Types of Dental Veneers?
Dental Veneers can be made from porcelain or from resin composite materials. You should seek guidance from your dentist on what material fits your teeth and your budget.
Porcelain resists stains well and mimics the light reflecting properties of natural teeth
Resin is thinner and requires removal of less of the tooth surface before placement
When Should you Consider Dental Veneers?
Below are some examples of when veneers should be considered:
Discoloration of teeth due to things such as excessive fluoride
Teeth that are worn down, chipped or broken
Straighten the look of your teeth
Close gaps in your smile
What are some of the benefits for Dental Veneers?
Here are just a few of the benefits you experience with dental veneers:
They can revitalize your smile after years of wear
Porcelain veneers are stain resistant
Fills in any gaps without the use of braces
Boost in self-confidence
How Long do Dental Veneers Typically Last?
Veneers can last anywhere from 7 to 15 years before you should consider replacing them. It's important to maintain good oral hygiene practices, including brushing and flossing to ensure they last longer.
Should I Get Dental Veneers?
After reading, you might be asking yourself, "Are Dental Veneers right for me?" You should know that the process to implement dental veneers is a marathon and not a sprint.
First, you will want to meet with your cosmetic dentist to diagnose your individual issue and develop a plan of action. Your dentist will consult with you, examine your teeth and make sure dental veneers are right for you.
William Rice, DDS and his team are experts when it comes to veneers. He would be happy to advise you on what path to take. Schedule a consultation with him now to walk through your challenges and let him help you deliver that smile you've been dreaming of!
Posted by admin
On October 11, 2021
0 Comment