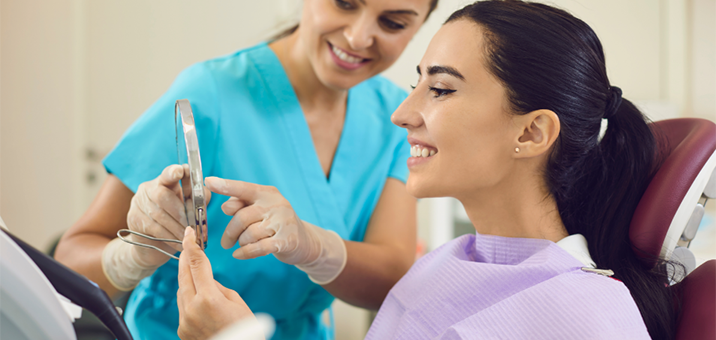 The best way to keep a bright and beautiful smile is by maintaining good oral health through brushing and flossing daily. However, there certainly are factors that can lead to the staining or yellowing of teeth over time. Seeking whiter teeth is perhaps one of the more common requests in the dental field.
Are you considering teeth whitening? Learn a few facts and know the questions to ask before you decide what is best for you.
What is Teeth Whitening?
Teeth whitening is a quick process done in the office using bleaches (hydrogen peroxide or carbamide peroxide) to break down stains. This removes the stains and gets your teeth back to its original, beautiful shade of white.
What Causes Teeth to Stain?
There are numerous reasons why teeth can lose their original shade of white over time. Here are some of the most common:
Poor dental hygiene
Plaque buildup and staining is most common in those that do not regularly brush and floss their teeth. Even missing regularly scheduled cleanings can lead to discoloration.
Food and Beverage
Some of the main culprits in this category are coffee, tea and red wine. The acids, tannins and natural dye from these beverages can often leave the enamel of the teeth etched and stained.
Smoking
The tar and nicotine in tobacco easily absorb into the pores of teeth. Over time, this is what causes the brown or yellow discoloration. Even e-cigarettes with nicotine can stain the teeth over time.
Medications
Surprising to some, even medications have a history of teeth staining over time. Some of the common medications that lead to teeth staining are antihistamines, blood pressure medications and radiation treatments.
Trauma
If you have had impact to your teeth, it could cause discoloration of teeth over time. The teeth react to injury by laying down more dentin, which is the darker, yellow layer below enamel.
Aging
As you get older, the outer layer of enamel on your teeth wears down and exposes dentin, a yellowish substance. Tooth dentin also grows with age.
What are the Benefits of Teeth Whitening?
Teeth whitening is a very popular cosmetic treatment because it is safe, easy and provides a big boost of confidence. It's always best to discuss the best treatment plan for teeth whitening with your dentist. At William Rice DDS, here are a few of the major benefits to getting a teeth whitening procedure.
Self-Esteem
As we mention above, teeth whitening is a great way to boost self-confidence. A bright, beautiful smile will be noticeable at work, home or on the go.
Quick, Expert Treatment
Teeth whitening services are quick and done right in the office. Simply make an appointment and you will be well on your way to flashing a brilliant smile.
Removal of Stains
Stains on teeth typically happen over time. It's likely you have noticed and wanted to address it but haven't had the time. With teeth whitening, you can address this issue and get your teeth back to the preferred shade of white you deserve!
Let William Rice Bring Back that Bright, White Smile!
The best way to know if teeth whitening is best for you is to discuss with the experts in cosmetic dentistry in Athens, Ga. It's easy to book an appointment with William Rice in Athens and discuss your options for teeth whitening.
Posted by admin
On November 9, 2021
0 Comment